August 28th, 2012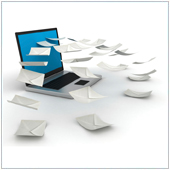 Microsoft dominates the office market, with over 97% of computers in office environments using some form of Windows. One essential component that's used in all businesses is Microsoft's email program Outlook. Many employees have gotten used to and rely on it. The problem with Outlook is that it can be expensive to maintain, so companies are looking to solutions like Google's Gmail. This can be met with stiff resistance, but there's a way to have your cake and eat it too.
If you have employees who are reluctant to switch from Outlook to Gmail, there is a way to use the Gmail platform with the familiarity of Outlook through a feature Google calls Google Apps Sync for Microsoft Outlook. Here's how you can set it up. Note: you need to be a Google Apps Administrator for this to work.
Log in to your Google account and navigate to your Dashboard. From there go to the Settings tab (located on the bar going across the top of the window) and click Email (located on the left of the window). Under the General tab scroll down and tick the box that says Enable Google Apps Sync and Google Apps Connector for my users.
Scroll down to User email uploads and tick the box that says Allow users to upload mail using the Email Migration API. This will allow users to upload their profiles from Outlook.
Select Contacts from the left side of the screen and select Enable contact sharing.
Click the Dashboard tab from the top of the window, and select Your Google Apps and ensure that Google Calendar is on.
Navigate to Domain Settings, the tab is at the top of the window, select User Settings and check the box that says Enable provisioning API.
Download and install the Google Apps Sync for Microsoft Office tool. It should run automatically.
Sign in to Google Apps Sync and select which data is to be merged from Outlook into Gmail and press Create profile. A screen will pop up asking you to open Outlook. When you do, the migration will then start.
While the migration is in progress, which could take a while, right click on the Google Sync icon on the bottom right of your screen (beside the clock) and select Set calendars to sync. Select the calendars and hit Ok.
After the sync is complete, your employees will be able to continue to use Outlook to compose and send emails. Outlook will also sync with Gmail. If you have any questions about the syncing process please contact us.
Published with permission from TechAdvisory.org.
Source.