Serviam Girls Academy
WILMINGTON—Serviam Girls Academy, a tuition-free private middle school, is dedicated to guiding the women of tomorrow to the mountaintop as leaders in their community.
The school provides each student with an iPad for coursework, online books and research. But spotty wireless connectivity made it difficult for the girls to realize the full potential of the technology. Online books would reset upon losing the wireless connection. Staffers in the development office had to strategically locate themselves in specific locations to send email.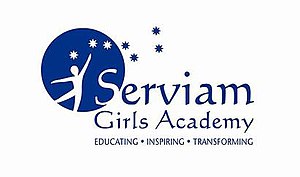 "Everything we do is on a shoestring budget and our piecemeal system simply wasn't up to the job," recalls Peggy Heins, head of school. "It was an ongoing source of inefficiency and frustration."
To design and implement a comprehensive system, the school turned to MySherpa, a trusted guide in business technology devoted to helping clients reach peak performance.
"MySherpa came in and understood what our need was and came up for a plan for an integrated system that would serve the entire school," she says.
Serviam received a grant to update its technology but the amount fell far short of the scope of work that was needed. So MySherpa partnered with the school to make certain Serviam received a state-of-the-art system that would serve students over the long haul.
"We are here to make sure they get it right the first time," says Greg Gurev, CEO and Head Sherpa. "Patching something together was not going to solve their problem."
Serving the community as well as clients is part of the culture at MySherpa. The company is a sponsor of the Annual Kennett Run and supports the Delaware KIDS Fund and a number of other organizations.
Gurev reached out to leaders at Meraki, a preferred partner, and engineered a wireless mesh reference network for Serviam. MySherpa is the second-largest seller of Meraki in the region.
Serviam needed eight units to do the load balancing for the system but only had enough money for five units. MySherpa asked Meraki to provide the additional three units at no cost.
Meraki agreed and soon the students and staff at Serviam were enjoying the speed and convenience of a Cloud-based wireless mesh system. Gurev also made a generous personal donation to the school.
"The beauty of this new technology is that it is self-healing," Gurev says. "It also takes much less time to install and administer than a conventional wireless network. In fact, the school can self-administer many of the features, like website use reporting, without contacting MySherpa."
At Serviam, girls are able to focus on their studies without glitches in connectivity. Staffers can work more efficiently.
"We now have a comprehensive system where students are using their devices in every room, and it works seamlessly," Heins says. "We are now looking at online testing instead of paper and pencil. Prior to the service we could never have considered it."
MySherpa continues to partner with Serviam, sharing ideals as well as business.
"It's very rewarding to hear what an impact the system is having at Serviam," Gurev says. "An important part of our mission is to enrich the community in which we serve. We believe everyone deserves a spot at the mountaintop."